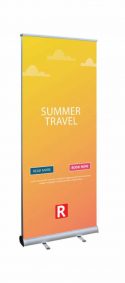 The Epson SureColor SC-T7200 has been designed for users who need to produce high resolution, large-format images, economically and at high speed.
The SC-T7200 is compatible with a wide range of media from basic bond paper to cardboard up to 1.5mm thick, and is ideal for posters, indoor signage & display, point of sale, pop-up banners and much, much more. It can also cope with some short-term outdoor applications of up to 90 days duration or more.
Epson's precision core TFP printheads do not need replacing and together with Ultrachrome XD ink, deliver the highest level of performance, value and versatile media support. The ink produces high resolution images that are resistant to damage through abrasion and moisture exposure.
The ink is cost effective and supplied in individual colour cartridges that come in a range of sizes to suit different production levels. Designed for business and corporate environments, the printer can be used stand-alone or networked. It features a small footprint, convenient front loading, low noise, and power consumption.
Key features include:
High Productivity – prints an A1 image in as little as 28sec
High Flexibility – supports roll, cut sheet and up to 1.5mm thick board up to 44" (1,118mm) wide and uses five individual colour ink cartridges including a matt and photo black that automatically switch depending on the output requirement
High quality – Newly developed Epson UltraChrome XD Ink features a full pigment construction for consistent high-quality output with an extended gamut range and durability. It enables images with solid fill areas, crisp text and lines with a minimum width of just 0.02mm.
Epson Sized Dot Technology™ (VSDT) delivers exceptional fine lines, solid dark areas, superior half tones and optimised ink usage
High Convenience – large LED control panel, all-front loading consumables with spindle-less roll media handling and barcode system
Multi-sheet Output Bin – holds 20 sheets of plain paper
Compact Design – features a small footprint with all connections conveniently located together on one site for corner installation
Cost Effective Operation – low power consumption, large waste tank and individual colour ink cartridges available in a choice of 110ml, 350ml and 700ml sizes to suit different output levels and cost-per-print requirements.
Super-Rigid Stand – robot assembled with laser welding for maximum precision and strength. Enables high speed printing with minimal movement and noise.
High-Speed Auto Cutter – cuts an A1 sheet in 2sec with high precision finish
Full Workgroup Support – large memory with integrated HP-GL/2 support, high speed Ethernet, remote management and e-mail notification, job costing and optional 250GB HDD for continuous multi-user operation with rapid reprint facility